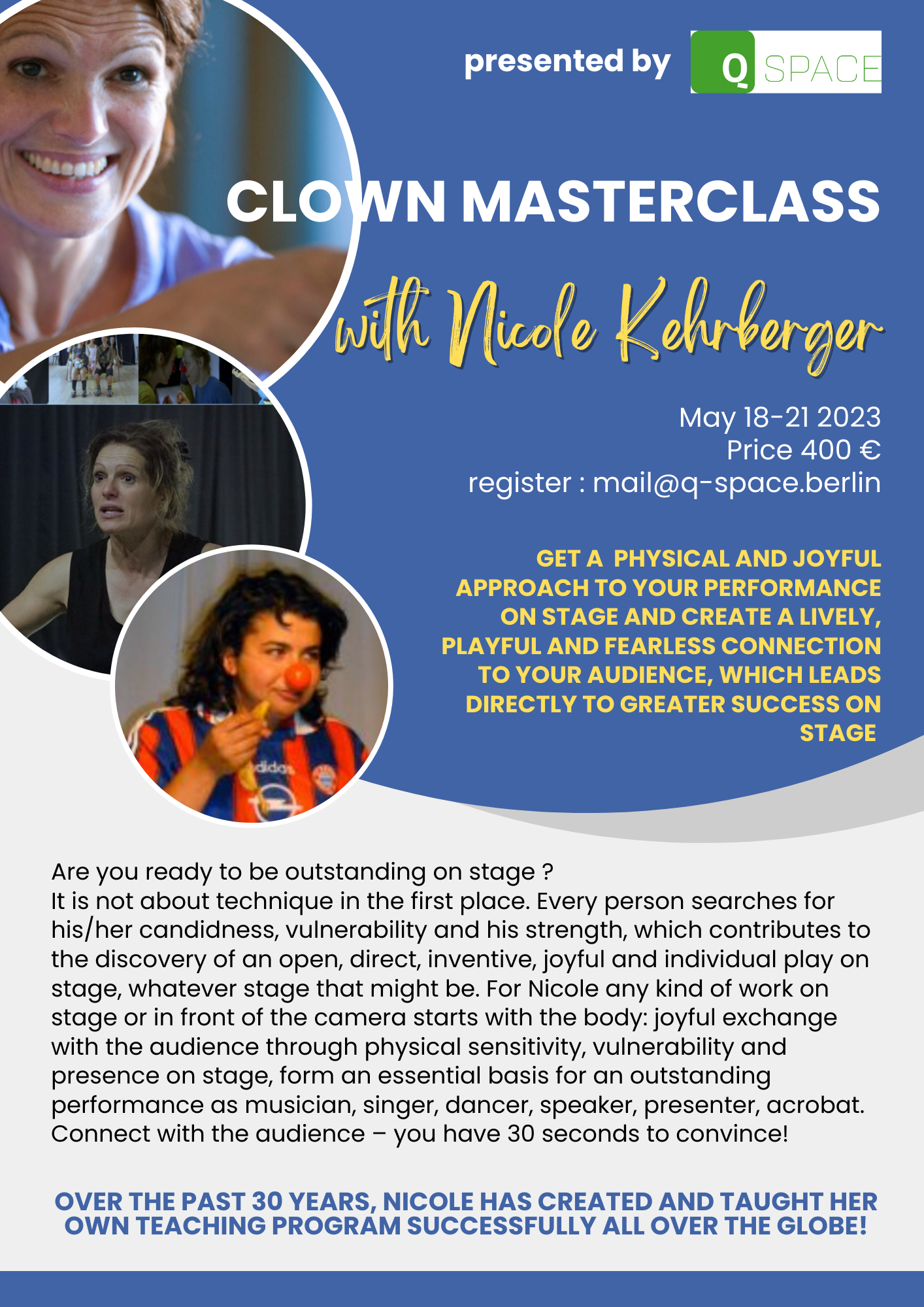 01 Mar

Clown Masterclass with Nicole Kehrberger

18-22 May

18 & 19, 9-15.30 h

20 & 21, 10-16.30 h

400 €

Register: mail@q-space.berlin

Don't miss this rare opportunity to study with world renowned actress, teacher and author of the book Seriously Silly!   with Nicole's, very physical and joyful approach to your performance, you can create a lively, playful and fearless connection to your audience, leading to greater success on stage. Through physical sensitivity, vulnerability and presence we will form the essential basis for an outstanding performance as musician, singer, dancer, speaker, presenter, acrobat.

Nicole Kehrberger has a long lasting experience as an award winning actress, acrobat, aerial artist and dancer on international stages and she combines all those disciplines in her teaching.
During the quest for the individual beauty, she tosses etiquette, theories, styles and masks into the wind. In every person she searches for his candidness, vulnerability and his fragility, which contributes to the discovery of an open, inventive, joyful and individual presentation.

At 20 years old Nicole started teaching movement. Besides her coaching and teaching activity for stage professionals over the past 30 years around the globe, she taught voice at the Scuola Dimitri in Switzerland and movement and acting at the Ecole Philippe Gaulier in London and Paris for 13 years. In 2011 Nicole Kehrberger established the International Theater Summer School in Berlin. Today her teaching and coaching activity operates under the name NK onstage.