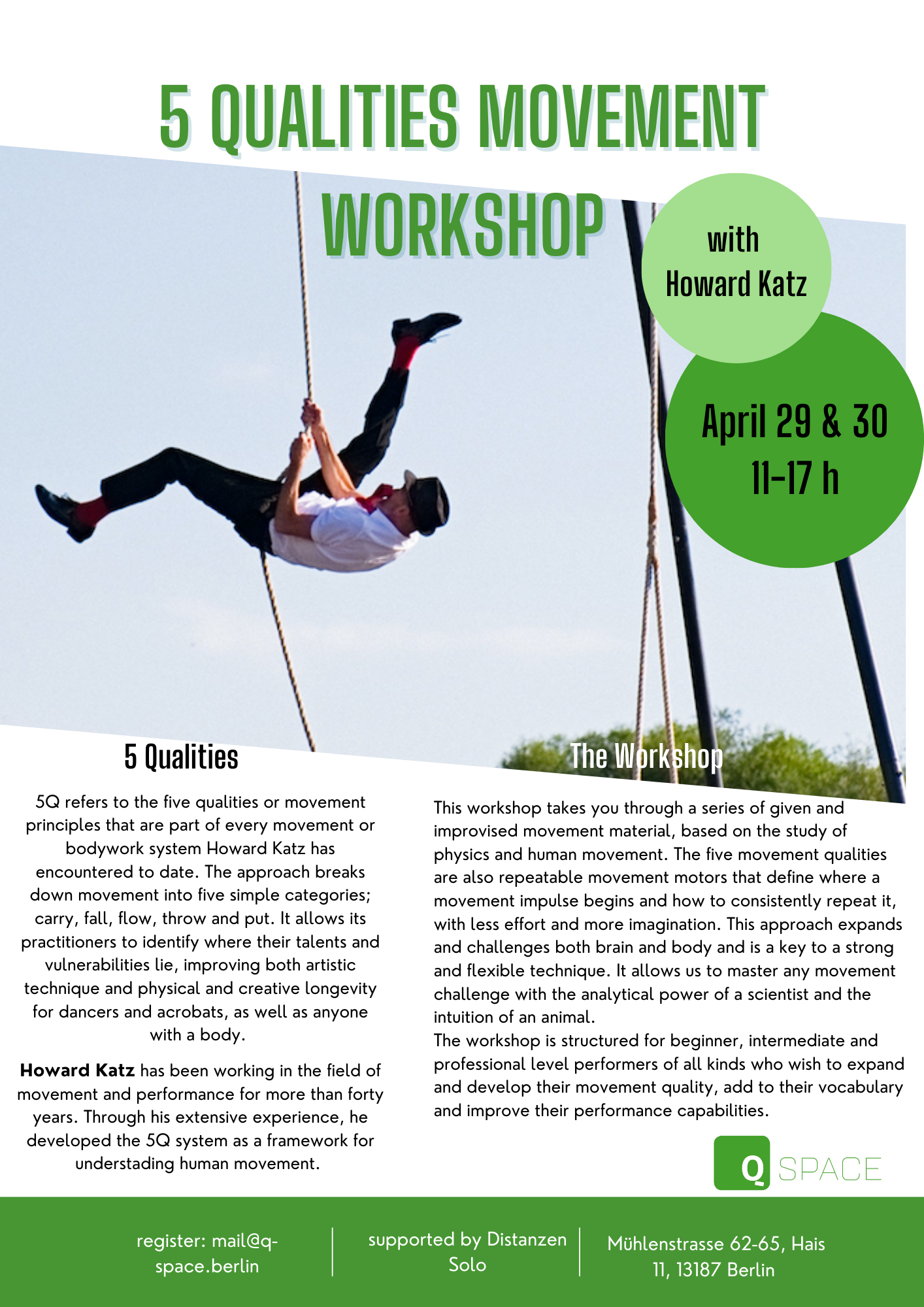 21 Mar

5 Qualities Movement Workshop

29 & 30 April 11-17 h

with Howard Katz, choreographer, director, performer, bodyworker and pedagog and Elizabeth Williams, circus artist, dancer, actress.

Registration with email to mail@q-space.berlin

This workshop is funded by Distanzen-Solo and is free to participants.

5Q refers to the five qualities or movement principles that are part of every movement or bodywork system Howard Katz has encountered to date. The approach breaks down movement into five simple categories; carry, fall, flow, throw and put. It allows its practitioners to identify where their talents and vulnerabilities lie, improving both artistic technique and physical and creative longevity for dancers and acrobats, as well as anyone with a body.

This workshop takes you through a series of given and improvised movement material, based on the study of physics and human movement. The five movement qualities, stated above, are also repeatable movement motors that define where a movement impulse begins and how to consistently repeat it, with less effort and more imagination. This approach expands and challenges both brain and body and is a key to a strong and flexible technique. It allows us to master any movement challenge with the analytical power of a scientist and the intuition of an animal.

The workshop is structured for beginner, intermediate and professional level performers of all kinds who wish to expand and develop their movement quality, add to their vocabulary and improve their performance capabilities.

This workshop is open for anyone. It is recommended to attend both days. The workshop will be documented through video and photo. Participants will be asked to fill out a questionaire at the end of the workshop.

Howard Katz has been choreographing, directing, teaching, performing and practicing; dance, martial arts, circus, music and bodywork for more than forty years. Through his extensive experience, he has worked with thousands of artists. It is through the observation and study of these movers, that he developed the 5Q system as a framework understading human movement.